Sunderland Junior Technical School Form 1a
Click photo to view in Full Size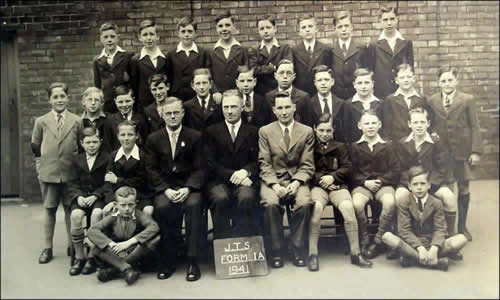 Photo sent in by Russell Nell.

Russel wrote:
Here is my old Form 1a of Sunderland Junior Technical School, taken in 1941.
Going from left to right on each row:
Back Row: Ron? Wright, Ernie Finn, Bill Snowball, Ron? Hall, Tom Rowley, Ron Hope, Eric Snowdon, Allan Burdis.
Second Row: Mat Pearson, Ron Wells, Les Allen, Ray Dudley, Ron Pearson, Ron? Burdon, Ken Carlisle, Charlie Hill, ??? Scott, Bill Hearn, ??? Davis.
Third Row: (seated) Dan Veitch, Arny Forster, Mr Davies Form teacher, Mr Canney Headmaster, Unkown Teacher, Roy Elms, Ron Turnbull, Bill Hekles.
Front Row: Myself (cross legged) on the left & Don Howe on the far Right.

Russel also mentioned that he'd been evacuated twice during the war. First from Cowan Terrace School via Millfield station and Bishp Auckland to Leasingthorne, a mining village that I think is no longer there. Second evacuation was from Cowan Terrace to Middleham, North Yorks via Leyburn. Returned from Middleham to West Park Central for a very short stay, then to J.T.S.
If you have any additional information about this photo, please use the Contact Editor link at bottom of the page to tell me more about it. Thanks.